Uukha Ilf Target Limbs SX 100 Monolith Carbon 100 % 2021
Stock Status
Check While Ordering
Uukha Ilf Target Limbs SX 100 Monolith Carbon 100 % 2021
About the product
For 2021, we at Uukha are very excited to introduce our 4th generation of limbs. Every limb benefits from the newly enhanced S-Curve profile and our new limb bottom design. The performance increase is impressive, the draw seems effortless, and speed and stability have progressed again. Uukha's product range consists of four models of Target limbs across a breadth of sizes in Small, Medium, Large, and Xtra Large. Nature limbs are also available in four models and the sizes of Small, Medium, and Large. The Uukha flying squirrel has never been as fast and accurate.
Enjoy shooting Uukha bows!
Sx100 the ultra high performance limb
The Sx100 features a 100% carbon content that places a high priority on stability, speed, and low weight. This limb is dedicated to archers seeking higher scores. Thanks to the S-Curve profile, the draw is easy and smooth. Vibration damping provides comfort.
What about risers offering a +15% poundage increase when playing with the tiller bolts, such as the Gillo GT? Our limbs are designed to provide the best performances in the -5%/+5% range of tiller bolts settings.
With a +15% setting
You will lose much smoothness.
You will lose in terms of stored energy efficiency: the speed increase brought by the added poundage will be lower than expected.
The stress on the limbs will exceed 10%, corresponding to 5 inches of over-draw, with a risk of early failure and accelerated aging.
We consider such a configuration to be out of normal use conditions, and therefore it is not covered by our guarantee.
Archery Tech Team
Productnumber:

911350

Packaging quantity:

1

Stock Status:

Check While Ordering

Brand:

Uukha
Uukha Ilf Target Limbs SX 100 Monolith Carbon 100 % 2021
More about the product
What's new, in more details for 2021
The new S-Curve profile (S for Smoothness, Speed, and Stability) is a new generation profile that provides the best attributes of our previous Curve and Xcurve profiles.
Draw-force curve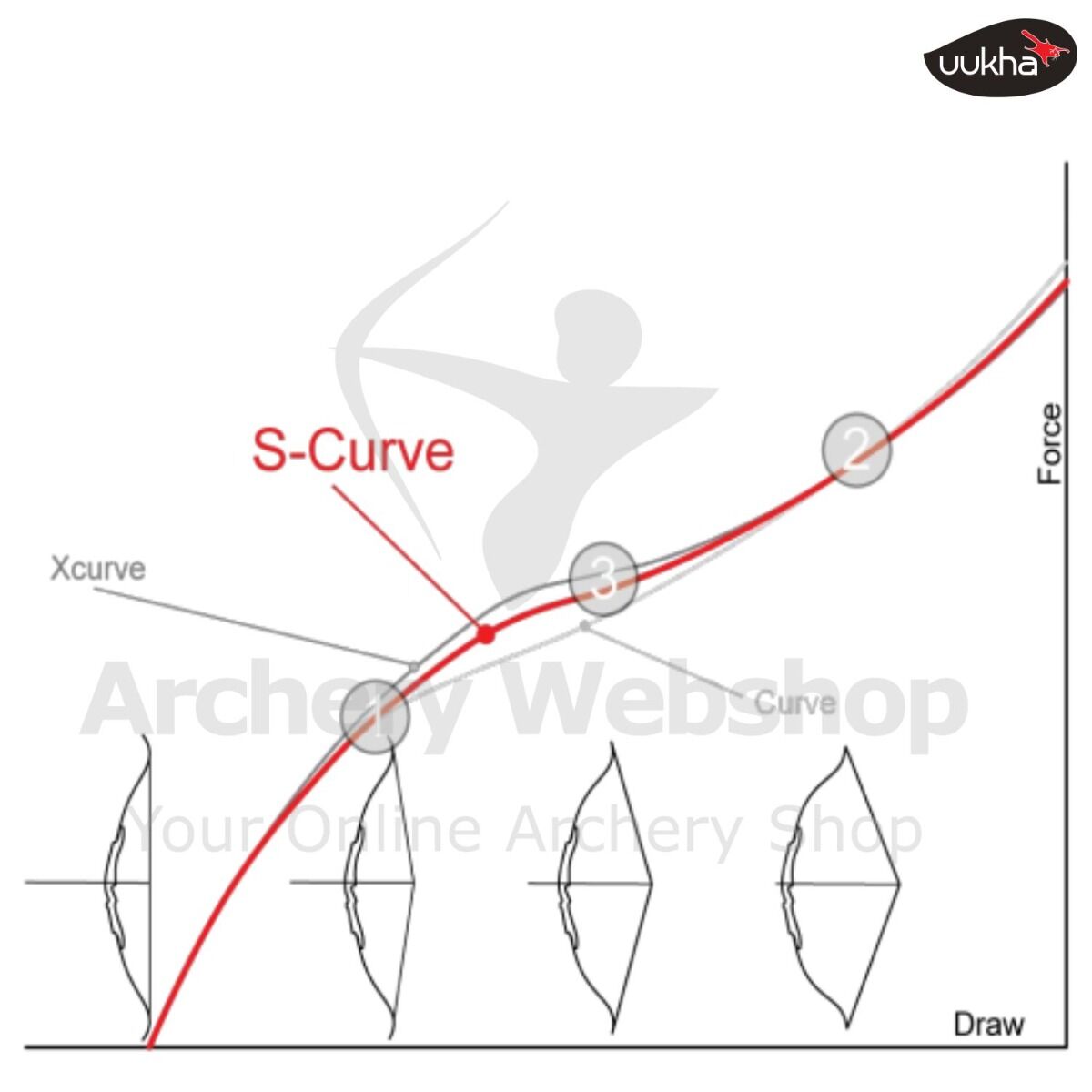 Relative to previous Uukha limbs, the beginning of the draw -1- is as easy as the Curve profile, while the end of the draw -2- is as progressively smooth as the Xcurve profile. Stored energy -3- remains high, and speed has improved thanks to the overall design and construction.
Limb bottom
We have minimized the limb's mass with a new S-shaped limb bottom, reducing maximum thickness, while keeping the ILF standard dimensions. The dovetail has been redesigned, saving the screw and lowering the stresses around the hole. Formula adapters cannot be used with the New 2021 S-Curve limbs. An ILF riser is required.

Archery Tech Team
Height:

0.00 cm

Width:

0.00 cm

Length:

0.00 cm